Current State of Display Advertising
According to a study released from eMarketer in April of 2019,  programmatic display advertising is going to eclipse search advertising for the first time ever in the US.Marketers are going to spend more on display ads than any other digital advertising medium.
Roughly 20% of all digital advertising dollars will be going to banner advertising this year. The projection for display ad spending in 2019 is set at $59.45 billion while search ad spending is projected at $62.55 billion.
But while it may seem that display advertising is going through a growth spurt, there are indications that without investment in programmatic advertising, real time creative and continual efforts to address growing issues of fraud and ad blocking these projections could be greatly affected. The good news is that programmatic advertising is on the rise.
Programmatic Advertising Gains Momentum
eMarketer predicts that in 2019 programmatic ad spending will account for 88% of all digital ad display spending. Concurrently, a recent AdRoll report cited that 66% of advertisers polled said they planned to increase their programmatic ad spending in 2018. The report notes that this is due to 87% of marketers seeing a greater return through programmatic advertising compared to traditional media buying. So why is ad blocking still on the rise?
Why is Ad Blocking Still a Problem?
A recent study released by eMarketer in February 2018 showed that 58% of US marketers surveyed said ad blocking would have a somewhat negative effect on programmatic advertising while 20% said that it would have a significantly negative effect. The use of ad blocking software increased 48% in 2018 in the United States, with 46% of those users claiming to block ads due to irrelevant content.
The Smoking Gun Points to Irrelevant Content
Programmatic marketing has made it possible for marketers to efficiently target specific audiences with the help of DSPs and the display networks have opened up huge pools of new audiences that were not available through search networks, however without relevant creative it all falls apart.
Contrary to contextual search networks the audiences on display networks are not searching for products or services, they are browsing the web. This very fact means that if your ads are not compelling or relevant enough to persuade them away from the content they're engaged with their interaction with your ads will be met with indifference or at worst, annoyance.
It is no surprise then that ad blocking is on the rise.
Real Time Creative to the Rescue
There is a solution, and it's one that deserves a lot more attention. It's called Real Time Creative (RTC) and it will be one of the deciding factors to the success of dynamic advertising.
Companies like Adacado deliver an automated solution for creating thousands of ads. These ads can have their prices, descriptions, images and click through links updated in real time to match whatever updates are happening on the website.
In addition we provide another layer of sophistication through our ad logic that prescribes the way those ads are shown. The rules of this logic can dictate at what time, in what geographical location, during which weather patterns, and based on a users browsing history what ads are shown. This logic also prioritizes the frequency of what ads are shown more than others based on historical data.
The icing on the cake comes with the implementation of our multi-frame ads which enable a full story board to be shown to the user while only counting as one ad impression. This is how one impression would look like to a user.
It is easy to see the fantastic benefit this provides to the user as well as the online retailer. The user is shown a personalized ad and is rewarded for being disrupted during their web browsing. The online retailer is capitalizing on a higher return on ad spend through higher CTR and conversion rates.
If the industry is serious about succeeding and fighting the growing risk of ad blockers they must adopt RTC and ad personalization into their strategy. The only real way we can affect user behavior to steer away from ad blockers is to give them what they need, personalized, relevant ads.
The Adacado Academy
Finding information on real-time creative and programmatic advertising can be more difficult then learning the subject itself. It is no surprise that many lack the depth of knowledge necessary to fully utilize these tools. In recognizing this problem Adacado is opening up the Adacado Academy. Every second Friday we will be posting new blogs, complete with info-graphics that will highlight important information about the programmatic and real-time creative space. We live in a dynamic world that is personal to everyone and I think it's time our industry reflected that world as well.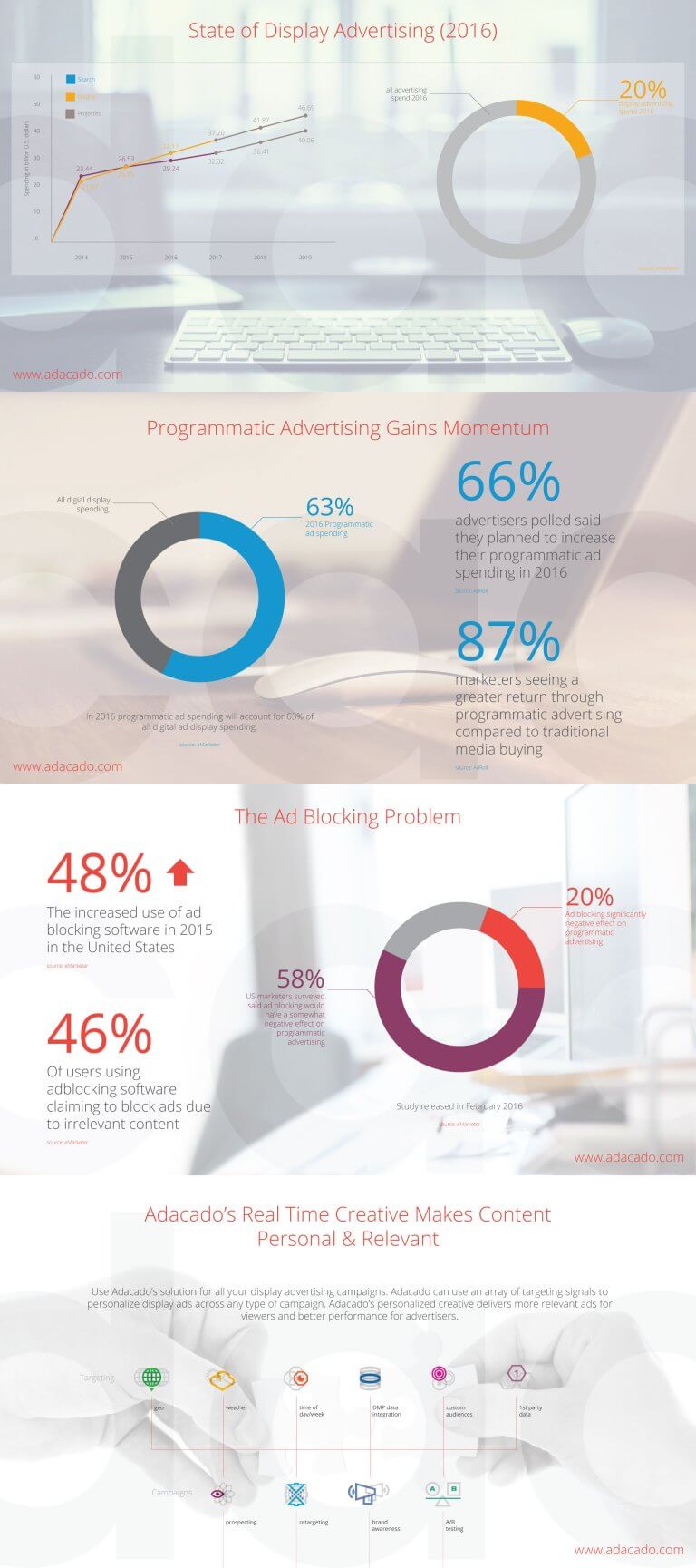 Sign Up For More Blog Updates