Ads should be things that people see as a benefit…not cringe at with the feeling of being followed. In the spirit of our motto "making ads matter", our goal is to elevate the quality of display advertising online. So every week we will be doing one ad review of a non-Adacado ad we see online, and provide our critique on the creative execution, targeting, personalization and user experience. We would love to get your feedback as well, so tell us what you think.
We don't know the inner workings of these campaigns and will essentially be reviewing them as a 3rd party observer, so please add any color or information around the campaign if you have it.
We look forward to working with you to make ads matter.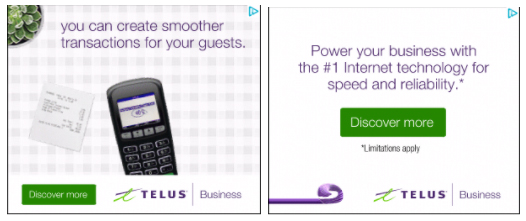 This week's ad spotlight features Telus, one of Canada's largest telecom companies. Last week I was reading a selection of online articles on startups and new phone model launches, when I was targeted and served these Telus telecom ads.
How'd They Do? Let's start with the positives
Based on my actions reading about phones and startups, they did a good job with their audience targeting to identify me as potential prospect.
Ads were viewed on relevant content pages on quality publishers, Fast Company and The Globe and Mail.
Clear Message & Consistent Style:
Both telecom ads used a consistent style with high visual contrast that attracted my attention and featured relevant, clear messaging.
Opportunities for Improvement
Ad #1 ends with a call to action, but would benefit from a clear CTA throughout the ad sequence, as many viewers might only see the beginning frames.
It would have been nice to see other phone model options presented in Ad #1, aside from just the Galaxy S8. The messaging could easily be consolidated so that each frame presents a different model / offer to appeal to a wider audience.
Overall, this was a very solid execution on both the media and creative side. Good job Telus!
What do you guys think of these ads? Were they engaging? Effective? Also, let us know if you have any suggestions on which company's ads you want us to feature for next week.
Sign Up For More Blog Updates